Package pump stations
Package pump stations are the most simple version of wastewater pump stations. They are versatile but are not as well suited to sites with a high water table or limited access for installation.
In terms of cost, they represent the most cost-efficient and easiest solution for smaller sites and can be up and running quickly. The tank is delivered to site with the pipework and valves already installed. Once surrounded in concrete, a single site attendance is required to install the pumps and commission the system, negating the need for a confined space entry.
However, if not installed correctly they are prone to failure from water ingress. They also have the shortest life span and are typically not structural units in them self. GRP package pump stations will typically not be adopted so although the upfront cost is cheaper, over their life span they typically end up costing more.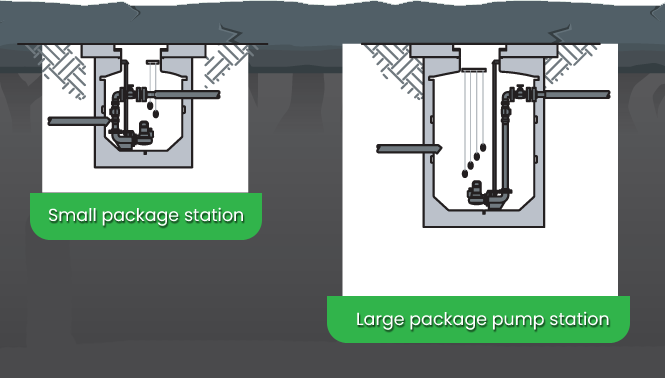 What type of package pump station do I need?
Our range of package pump stations consists of:
GRP (Glass Reinforced Plastic)
Vertical and horizontal chambers
GRP chambers are not structural units in themselves and rely on the concrete surround to provide support.
HDPE (High Density Polyethylene)
Vertical and horizontal chambers
HDPE chambers are structural units. In most cases, depending on location and water table, will only require a granular backfill on installation.
What can Willow Pumps offer you?
All of our package wastewater pump station chambers are manufactured to suit the site-specific requirements of your project.
GRP chambers
Vertical standard range
1000mmØ, 1250mmØ, 1500mmØ, 1800mmØ, 2100mmØ. 2500Ø

Horizontal with integral pump sump
1800mmØ, 2100mmØ, 2500mmØ, 3000mmØ
HDPE chambers
Our HDPE chambers are available in the range of standard manhole sizes. We also offer custom square chambers.