Water Pressure & Booster Sets
Willow Pumps can design, install, commission, and maintain water booster sets for residential and commercial premises throughout the UK to increase water pressure and flow.
From small domestic pumps to pumps for high-rise commercial buildings, offices, and hotels, we can develop a bespoke solution to fit your requirements.
What is a booster set?
A water booster set is utilised in buildings where the mains water pressure is not adequate to satisfy the pressure requirements of your building due to the following issues:
The static height of the building
Excessive frictional losses in pipework/equipment
Water authorities lowering the mains water pressure
High-pressure requirements of particular sanitary ware
Single and twin booster sets are designed to increase the pressure of hot/cold water services.
These can be designed and supplied for use in all applications.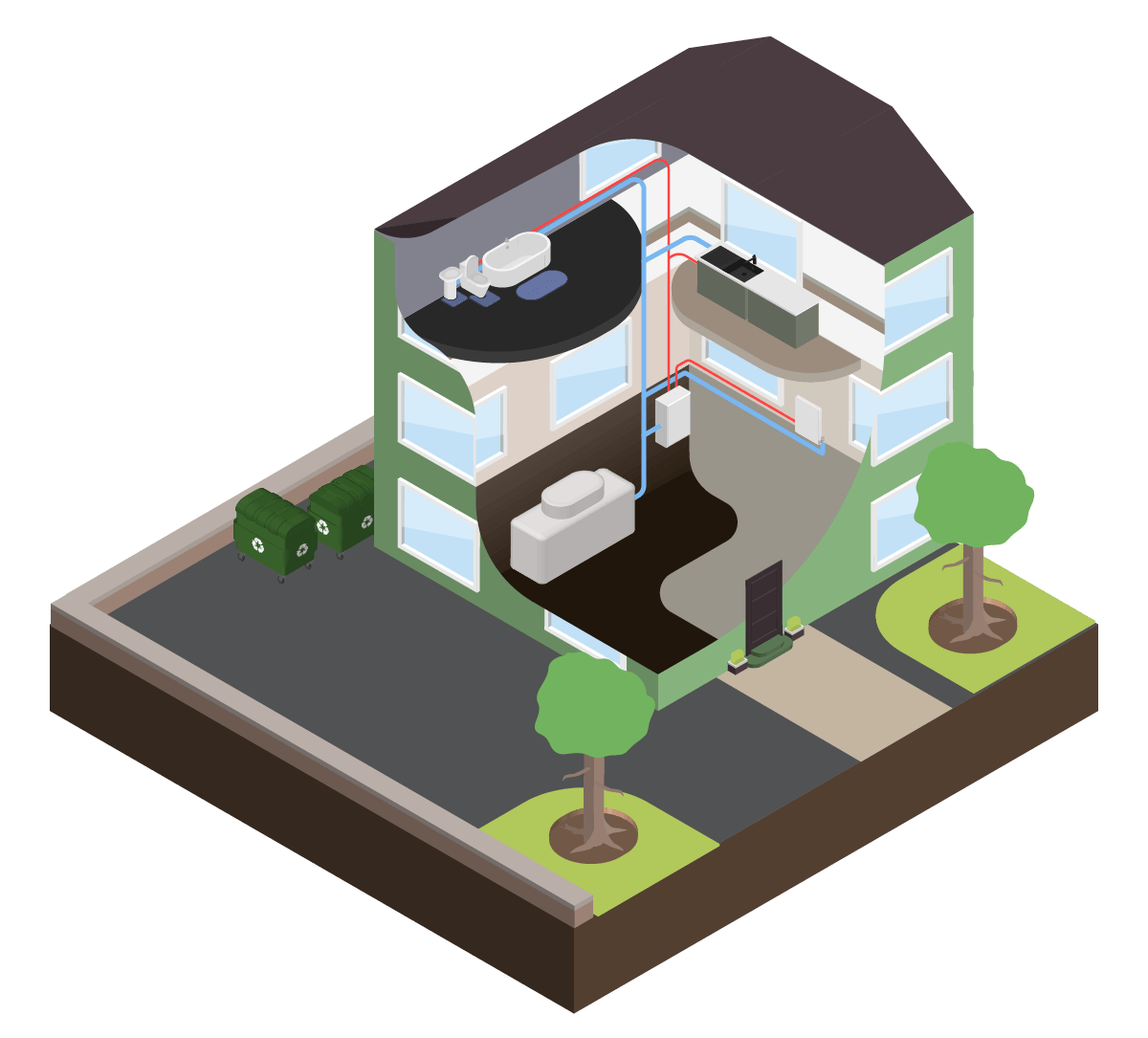 Installation
Willow Pumps can offer an installation service where we can install all of the equipment we have supplied for your project, including:
The cold water storage tank, including the mains water connection to the tank inlet(s) with isolation valves
Installation of the booster set, including the pipework between the cold water storage tank(s) and the suction manifold via a flexible connection to prevent transmission of noise through the pipework with isolation valves, then from the discharge manifold to a point in the plant room usually terminating with an isolation valve and flexible connection.
All pipework will be supported and insulated. The electrical connection will be made from a rotary isolator switch to the booster set, once the installation is complete, the cold water storage tank(s) will be cleaned and chlorinated and left ready for use. Finally, the booster set will be run up and commissioned.
Maintenance
A fully comprehensive maintenance proposal can also be offered to ensure the booster set is running at its optimum efficiency and will also be covered by our 24/7/365 emergency call-out facility, putting you in a preferential position over non-contract customers.
Willow Pumps carry out maintenance and remedial works for numerous hotel chains, coping with the demands this brings as a hotel without water is not very welcoming. We also have contracts with housing associations, social housing organisations, and private housing FM companies.
We can devise a maintenance schedule to suit your requirements. For most clients, this is at six-monthly intervals.
If you need booster set repairs, the team at Willow Pumps can help. In most cases, we can make the necessary repairs during our first visit. If we can't, we will provide a temporary solution until we can fix a permanent replacement part.