Do I need a pre-cast concrete pump station?
Pre-cast concrete pump stations can be tailored to suit most situations. However, they lend themselves to projects where larger or deeper than standard wet wells are required, or on sites where a non-circular shape is required. It is also typically a more robust solution when compared to GRP (Glass Reinforced Plastic) chambers, with the chamber and any concrete surround providing the structure.
Typical PCC ring pump chambers have a diameter ranging from 1.5m up to 3m, but smaller and larger sizes are available where required.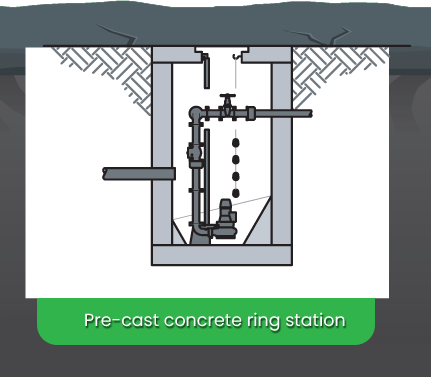 What can Willow Pumps offer you?
Through providing an end-to-end service, we can give you continuity and efficiency throughout the process by keeping everything in-house.
The Process
Send us the relevant information and we will review and be in touch to discuss your options.
Once we have reviewed the relevant information, we will carry out the calculations and provide you with our proposal and recommendations.
Our in-house design team will design a pump station to meet your system requirements and appropriately size the PCC chamber, pumps and pipework required.
Take delivery of the pumps, pipework, and ancillary equipment.
Once the chambers have been constructed, our engineers will attend site to install the pipework and valves. This will typically be conducted over two visits. The initial visit will cover installation of the pipework and valves. The second visit comprises the installation of the pumps and controls before moving on to commissioning of the system.
Advise us when you are ready for commissioning and one of our teams will attend site to commission the station.
With dedicated teams to help every step of the way we will be there to provide assistance from enquiry stage through to installation and onwards to operation and maintenance.